SUMMARY OF DRUG INTERACTIONS*1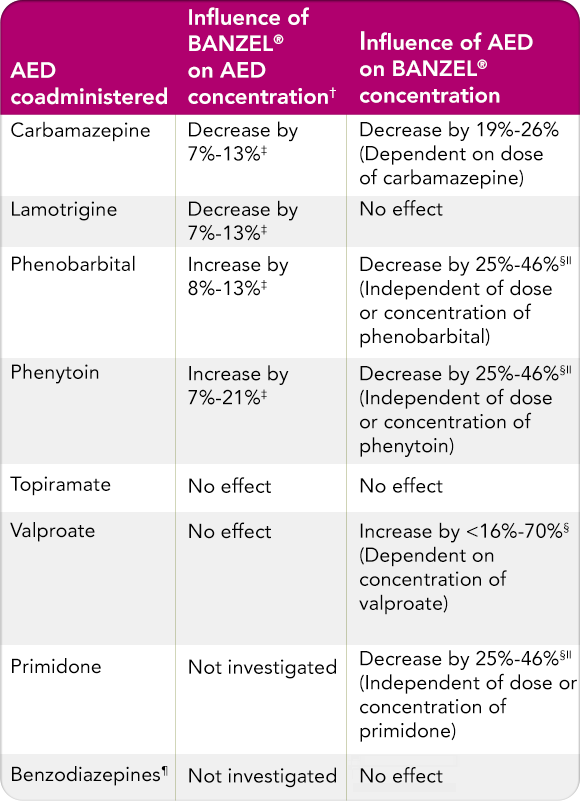 | AED coadministered | Influence of BANZEL® on AED concentration† | Influence of AED on BANZEL® concentration |
| --- | --- | --- |
| Carbamazepine | Decrease by 7%-13%‡ | Decrease by 19%-26% (Dependent on dose of carbamazepine) |
| Lamotrigine | Decrease by 7%-13%‡ | No effect |
| Phenobarbital | Increase by 8%-13%‡ | Decrease by 25%-46%§|| (Independent of dose or concentration of phenobarbital) |
| Phenytoin | Increase by 7%-21%‡ | Decrease by 25%-46%§|| (Independent of dose or concentration of phenytoin) |
| Topiramate | No effect | No effect |
| Valproate | No effect | Increase by <16%-70%§ (Dependent on concentration of valproate) |
| Primidone | Not investigated | Decrease by 25%-46%§|| (Independent of dose or concentration of primidone) |
| Benzodiazepines¶ | Not investigated | No effect |
*Based on a population pharmacokinetic analysis. †Predictions are based on BANZEL concentrations at the maximum recommended dose of BANZEL. ‡Maximum changes predicted to be in pediatric patients and in adult patients who achieve significantly higher levels of BANZEL, as the effect of BANZEL on these AEDs is concentration dependent. §Larger effects in children at high doses/concentrations of AEDs. ||Phenobarbital, primidone, and phenytoin were treated as a single covariate (phenobarbital-type inducers) to examine the effect of these agents on BANZEL clearance. ¶All compounds of the benzodiazepine class were pooled to examine for class effect on BANZEL clearance.
No liver function test monitoring is required per the BANZEL® label
Use of BANZEL® in specific populations
Use in patients with severe hepatic impairment is not recommended1
Use caution in patients with mild-to-moderate hepatic impairment1

Please ask patients if they have been diagnosed with liver problems before prescribing BANZEL

No dose adjustments are required for patients with renal impairment1

Hemodialysis may reduce exposure to a limited extent; adjusting the BANZEL dose should be considered

Pregnancy Category C

BANZEL should be used during pregnancy only if the potential benefit justifies the potential risk to the fetus1

Nursing mothers

Because of the potential for serious adverse reactions in nursing infants from BANZEL, a decision should be made whether to discontinue nursing or discontinue the drug1
Effects of BANZEL® on valproate and other medications
Valproate
BANZEL clearance was decreased by valproate. In children, valproate administration may lead to elevated levels of BANZEL by up to 70%1

When adding valproate to BANZEL, begin valproate at a low dose and titrate to a clinically effective dose

When adding BANZEL to valproate, begin BANZEL at a dose lower than

10 mg/kg/day

for children or

400 mg/day

for adults
Effects of BANZEL® on other medications
BANZEL may render hormonal contraceptives less effective. Additional nonhormonal forms of contraception are recommended when using BANZEL1
Use caution when administering with other drugs that shorten the QT interval1
Enzyme inhibition
Based on in vitro studies, BANZEL shows little or no inhibition of most cytochrome P450 enzymes at clinically relevant concentrations, with weak inhibition of CYP 2E1. Drugs that are substrates of CYP 2E1 (eg, chlorzoxazone) may have increased plasma levels in the presence of BANZEL, but this has not been studied.1
Reference: 1. BANZEL® (rufinamide) prescribing information, Eisai Inc.