BANZEL®
(rufinamide)

OFFERS FLEXIBLE DOSING OPTIONS
So you can tailor therapy to individual patient needs
Pediatric Dosing

Dosing starts at 10 mg/kg/day, divided into 2 equal doses.1
Increase dose by approximately 10 mg/kg increments every other day until your patient reaches therapeutic response, up to a maximum of 45 mg/kg/day or 3200 mg/day, whichever is less, divided into 2 equal doses1
Adult Dosing

Dosing starts at 400-800 mg/day, divided into 2 equal doses.1
Increase dose by 400-800 mg every other day until your patient reaches therapeutic response, up to a maximum dose of 3200 mg/day, divided into 2 equal doses1
In the pivotal trial, dosage reductions were permitted during titration if problems in tolerability were encountered.1
Target dosage was achieved in 88% of the BANZEL-treated patients1
The majority of these patients reached the target dose within 7 days, with the remaining patients achieving the target dose within 14 days1
The average daily dose during the maintenance period in the pivotal trial: 1665 mg/day for all patients2

It is not known whether doses lower than the target dose are effective
Patients taking valproate should begin BANZEL at a dose lower than 10 mg/kg per day in pediatric patients or 400 mg/day for adults.1
Multiple dosing options when adding BANZEL
BANZEL offers 2 formulations for administration1
Multiple dosing options when adding BANZEL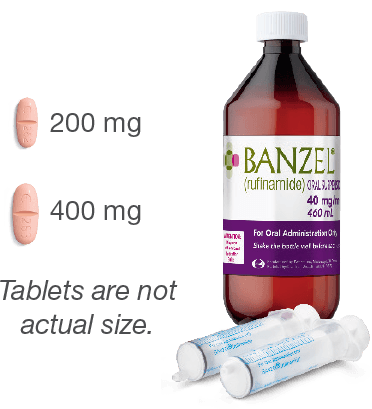 BANZEL offers 2 formulations for administration1
Tablets: 200 mg and 400 mg
Oral suspension: 40 mg/mL
Tablets can be administered whole, as half tablets, or crushed1
Advise patients to take BANZEL with food1
HELP ELIGIBLE PATIENTS SAVE ON BANZEL® (rufinamide)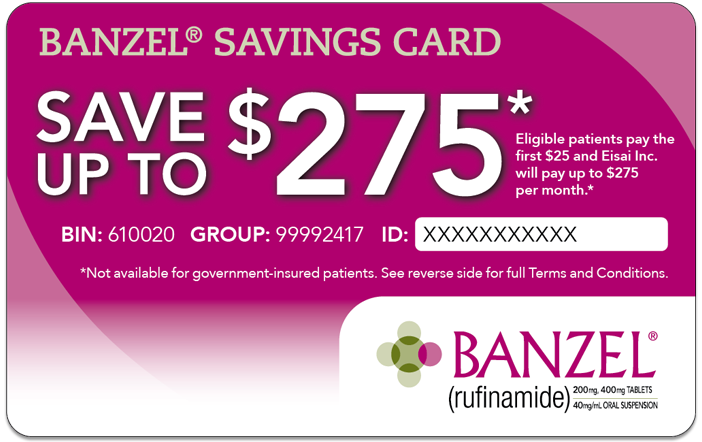 With the BANZEL® Savings Card, eligible patients may be able to save on their BANZEL prescription.
*Eligible patients pay the first $25 and Eisai Inc. will pay up to $275 per month. Restrictions apply. Not available to patients enrolled in federal or state healthcare programs, including Medicare, Medicaid, Medigap, VA, DoD, or TriCare programs. Complete terms and conditions available at www.BanzelCard.com.
References: 1. BANZEL® (rufinamide) prescribing information, Eisai Inc. 2. Data on file, Eisai Inc.